This is the Devufre "Pleepleus" watch...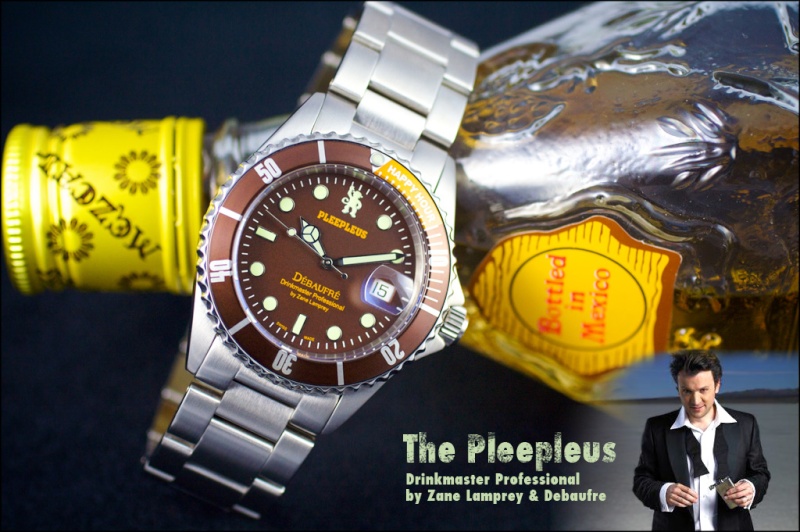 Anything with
"Happy Hour"
on the bezel is OK with me!!!
http://store.debaufre.com/The-Pleepleus-p/z-dw.09.0501.htm]http://store.debaufre.com/The-Pleepleus-p/z-dw.09.0501.htm]http://store.debaufre.com/The-Pleepleus-p/z-dw.09.0501.htm
Celebrate a bond with friends in the social setting of camaraderie over a shared glass at happy hour. Retire from your worries and liberate yourself from the repetitiveness of 9 to 5. This is your hour, this is your time, this is The Pleepleus by Zane Lamprey and Debaufre, Swiss ETA Quartz version.

Who Is Zane Lamprey?
Zane is the host of an extremely popular TV show called "Three Sheets". It previously aired on the MOJO Network, and a brand new season will be airing on a new network in July 2009. In the show, Zane travels the globe learning about people and their drinking customs, the general theme of the show is to "expand your cultural awareness".
As a comedian, Zane breaks the ice with his humor, and as the drinks flow he gets people to open up, giving us a glimpse into the drinking culture of the region as well as the people who live there. Zane has embarked on a journey to drink his way around the world, sacrificing himself for your cultural development. Three Sheet is entertaining, educational and motivating (you'll want to jump on the next flight to begin your own drinking adventure). "Three Sheets" episodes can be seen on ZaneLamprey.com

What Is Pleepleus?
Pleepleus, a stuffed toy monkey that Zane takes along with him on his travels, so he never has to drink along. Pleepleus has become the beloved mascot of the show, and has even spawned a drinking game whereby the first person to spot the monkey gets to make someone else in the room drink.
Features: The Swiss made Debaufre Pleepleus watch is a 42-mm 316L surgical grade stainless steel case powered by the ETA quartz movement. The sapphire crystal glass is coated in anti-reflective material and the stainless steel Oyster bracelet uses screws and solid-end pieces. The hands and dial markers are coated in Super-LumiNova illumination paint, so you can see at night. The screw-down crown and case-back offer secure operation to water depths of up to 1000 feet, which is 300 meters (don't drink and dive).